Auralite-23, also known as one of Earth's oldest minerals, Auralite-23 crystals has been scientifically proven as the world's oldest crystal gemstone, which formed more than 1.5 billion years ago when the first signs of life appeared on Earth. Auralite-23 crystals reflect its journey frozen in time. The only locality is the place of its initial discovery, north of Lake Superior in Ontario, Canada.
Auralite-23, also known as Aurora, was only recently discovered and pushed into the mineral market within the last 20 years, making it one of the newest crystals in the 21st century. Auralite-23 crystal gemstone is the most powerful crystal on the planet, with the highest vibration and holding the energies of 23 different earth elements and minerals all in one, a spiritual healing tool as it opens all chakras and allows an opening within for profound healing.
Auralite 23 crystal is a rare and powerful type of healing crystal. This crystal is about 1.2 billion years old and is considered one of the oldest minerals on Earth. It was discovered in 2007. The formation conditions of the Auralite 23 crystal are incredibly harsh and exceedingly rare, the product of a meteorite hitting an amethyst deposit. This crystal plays a pivotal role in the spar healing system.
The Meaning and Symbol of Auralite 23 Crystal
The name Auralite 23 comes from the 23 different types of minerals contained within it, measured by X-ray diffraction. These disparate ingredients give Auralite 23 crystal a gorgeous appearance and rich efficacy. Unlike crystals are generally considered more transparent and expensive, Auralite 23 crystals are not very fine. Still, when held in a gaze, the beholder will be shocked by the vibrant visual elements at play. Different minerals exhibit different characteristics in Auralite 23 crystals, making the Auralite 23 crystal synonymous with "almighty" and "balanced."
The Healing Properties of Auralite 23 Crystals
The Auralite 23 crystal contains a considerable amount of energy. Thanks to the complexity of its ingredients, it can bring a full range of healing to the human body, both physical and spiritual. Auralite 23 crystals can provide long-term and short-term benefits to your health and help you solve many problems on an emotional level. Perfect for solving issues in your career or love life.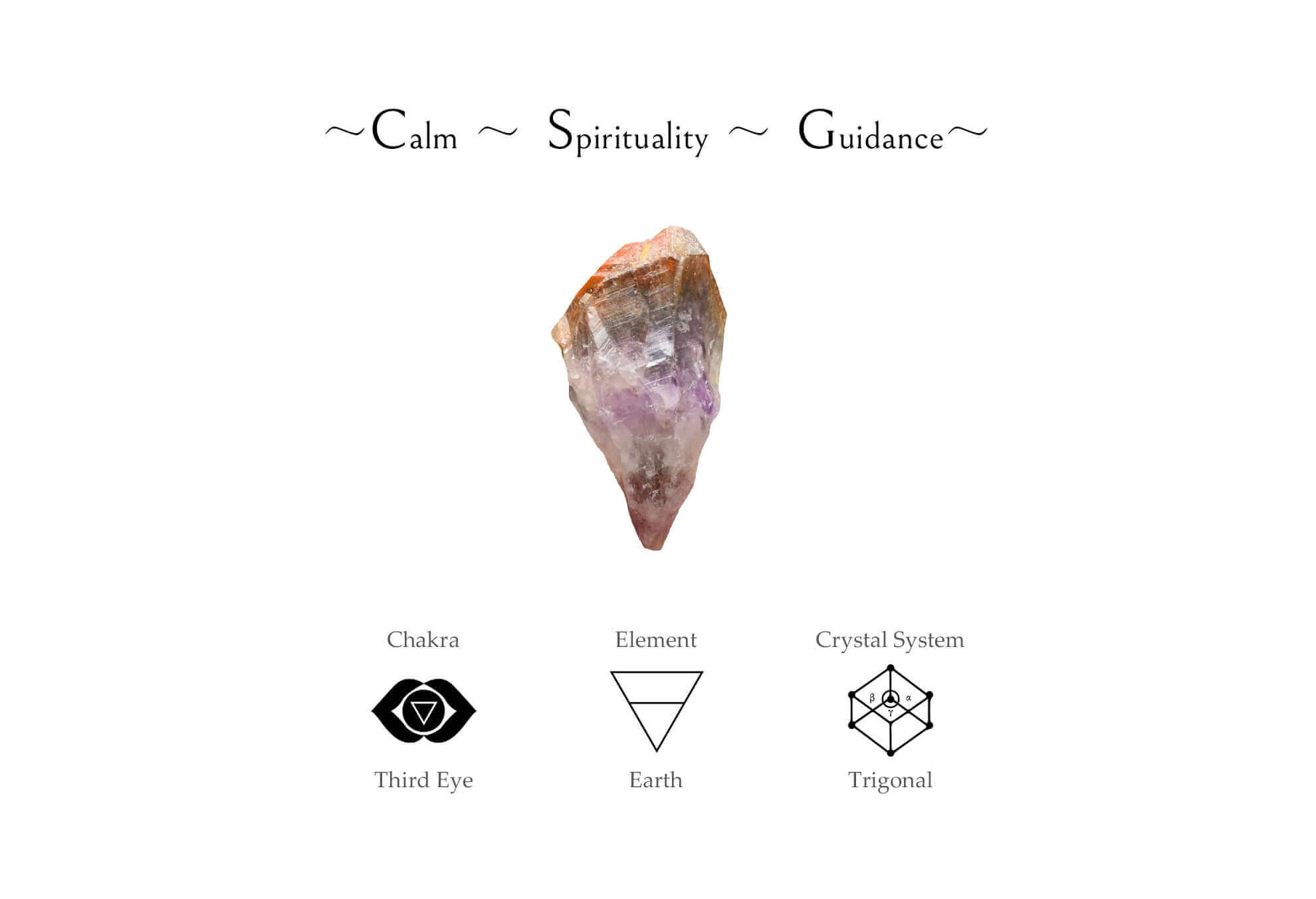 Auralite 23 Crystals and Chakras
The Auralite 23 crystal covers all seven chakras, an exceedingly rare property compared to other crystals. From the root chakra to the crown chakra, Auralite 23 crystals can activate and accelerate all chakra operations, bringing all-encompassing help to your life. The most unique and powerful feature of the Auralite 23 crystal is its ability to help you connect with the spirituality within yourself.
Auralite 23 Crystals and Constellations
Like the Auralite 23 crystal's place in the chakra system, it strongly connects all twelve zodiac signs. This also means that any constellation can choose the Auralite 23 crystal as its guardian stone. It can bring powerful blessings to the carrier of each constellation and is a well-deserved master of the crystal family.
Auralite 23 Crystal Cleaning and Maintenance
As a very rare and powerful spar, the care of Auralite 23 requires more investment and patience than other spars. If conditions permit, you must periodically (usually monthly) let the crystal sit in a jar of mixed quartz. This will help the Auralite 23 crystal draw the energy it needs to replenish itself. There are better ideas than regular water flushing for Auralite 23 crystals. You can also collect and burn sage and let the resulting smoke surround the Auralite 23 Crystal for a brief time, which will refresh its power and effectiveness.
Auralite 23 Crystal Rarity and Value
The only source of Auralite 23 crystal remains where it was found - north of Lake Superior in Ontario, Canada. Exceptional properties and a limited source increase this crystal's price and value. As people's awareness of it continues to deepen, Auralite 23 crystal will likely become a sought-after item in the market for the foreseeable future.
About the Identification of Auralite 23 Crystal
Due to the high demand and low supply of Auralite 23 crystals, there is a big counterfeit market. There is currently a known fake in the market that increases the brightness of the amethyst by heating it and coating it with hematite to fake the features inside the Auralite 23 crystal. It is difficult for non-professional gem appraisers to differentiate them, so the most convenient way to obtain genuine Auralite 23 crystals is to choose a trusted brand or dealer.
AWNL with Auralite 23 Crystal
If you are looking for a piece of Auralite 23 crystal jewelry, don't miss the AWNL high-end luxury half-chain gemstone bracelet.
Showing AWNL Auralite 23 Bracelet
The Auralite 23 bracelet is the high-end product of our primary product line: the spar series. AWNL selects the purest and highest-quality Auralite 23 crystals to ensure the authenticity of the spar.
This bracelet adopts a highly recognizable half-chain design, using S925 silver and Auralite 23 crystals to form a closed loop. This design is not only based on fashion considerations, but by neutralizing part of the energy overflowing from the Auralite 23 crystal, the design helps regulate the potent energy auras, making this suitable as Auralite 23 crystal jewelry for anyone.