Born from the Earth out of Pure Fire
What is Obsidian?
Obsidian is originally volcanic glass, which will show different colors or luster because of its characteristics. There are about 30 varieties of obsidian. Obsidian is a complex silicate mineral formed by the rapid cooling of volcanic magma. The black obsidian is mainly found in volcanic areas in Mexico, USA, Thailand, Canada, Peru, and New Zealand. Due to the oxidized iron contained within the mineral composition, these crystals are usually in black color. In terms of its structure, obsidian minerals are more like glass than crystal, and their properties make obsidian appear "dull" compared to other sparkling stones. However, there are deeper secrets within these seemingly "boring" crystals.
 Obsidian actually comes in a variety of forms, each having a unique name, ranging from smoky, translucent "Apache Tear" to fully opaque black volcanic crystal.
 • Snowflake obsidian contains gray and white flakes of feldspar, mica, and the similar minerals, while mahogany obsidian has red and brown stripes.
 • The rainbow-hues of the iridescent obsidian is due to the reflection of light by the tiny minerals enclosed within it and is formed due to different cooling rates.
 • Gold obsidian, silver obsidian, and Mahogany obsidian
Unrounded and unpolished obsidian usually has sharp edges and should be handled with care. The rarest obsidian types are golden obsidian and silver obsidian. These are formed with air bubbles and have a presence of gold or silver substances near the surface, it is said that they provide the energy of the sun and the moon.
In ancient times, obsidian was often used to make weapons and knives because of its glass properties and sharpness. In blood sacrifice rituals of South America, the shaman believed that the use of obsidian could avoid the entanglement of the soul, and could expel evil forces.
Magical Obsidian Healing Properties
Obsidian can be made into divine tools for meditation and spiritual traveling. Enlightenment, purification and transformation are the major three healing properties of this glass.
A smooth obsidian disc or polished obsidian ball can be used as an auxiliary lens
It can help retrieve hidden or lost memories
As a stone that emerges with dramatic power, obsidian can bring hidden problems, emotions and traumas to the surface
The stone can also re-balance the digestive system and clear blocked energy, change inertia, and drive away evil spirits
Insulate against negative energy
Provides deep peace and deep relaxation
Lead people to embrace the earth
Encourage people to face the dark side and the unknown
Inspire people have the power to change their own problems and overcome inertia
Pierce Deception with the Mirror of the Soul that Reflects All Human Nature
Obsidian is considered to be an ore with powerful transforming abilities, its energy is enough to turn your life upside down and bring a complete transformation.
The energy form of obsidian is to subvert all inertia and structure. It will make us break away from our bad habits and lazy thinking towards a better goal for the future. Often, we are affected by feelings of attachment or emotional baggage which causes a fear of change.
Obsidian reflects and breaks this cycle of fear. This is why modern healers always say that Obsidian is a strong spiritual teacher that leads you to the important concept of fetching and gives you growing spiritual power.
It is generally believed that obsidian also has the function of a mirror. It can reflect all negative energy and is one of the best guardians of your spiritual world.
Obsidian and Chakras
Obsidian represents head, spine, base of the spine and elbow. Base/Root Chakra and Crown Chakra are the major two Chakras that obsidian owns.
Obsidian and Meditation
Ordinary users can use obsidian to meditate, transform their energy, and store excess energy. You can usually put obsidian in meditation or reading places to stabilize your spatial energy and purify your surroundings.
Obsidian can help us clean up negative energy that may constipate your spiritual tunnels. In the face of mental illness or chronically afflicted physical conditions, you can use obsidian to shift your energy bit by bit, delving deeper into understanding where the true problems lie.
Rainbow Obsidian helps you find your own future path while Snowflake Obsidian helps you reorganize and change yourself. Mahogany Obsidian distills toxins in the body. Golden Obsidian brings sun-like power to enhance positive energy while Silver obsidian brings the blessing of the moon and enhances feminine energy.
How to Cleanse and Care Obsidian Jewellery
It's very easy to clean obsidian jewellery. You can use running water, salt water, or even rain water.
By using running water, be aware that too much exposure or soaking may turn it into a pale color. Do not expose it to sunlight after exposure to the sea or saltwater. You can use soap with mild ingredients without the need to brush. You can wipe it with a soft cloth and rinse it. Mist sprays are also safe when cleaning obsidian.
By doing these steps and using those ways to cleanse the stone, It allows the crystal to reset and regain its energies and powers after usage.
The Bottomline
Obsidian is an exquisite crystal with strong properties in perception, protection, and healing. With lots of uses in meditation, and spiritual growth, Obsidian is a useful crystal to keep. With over 30 varieties in the Obsidian family, it is easy to get confused on what Obsidian does. Hopefully with this guide, you can have a better idea on the mystical and spiritual abilities of this potent crystal.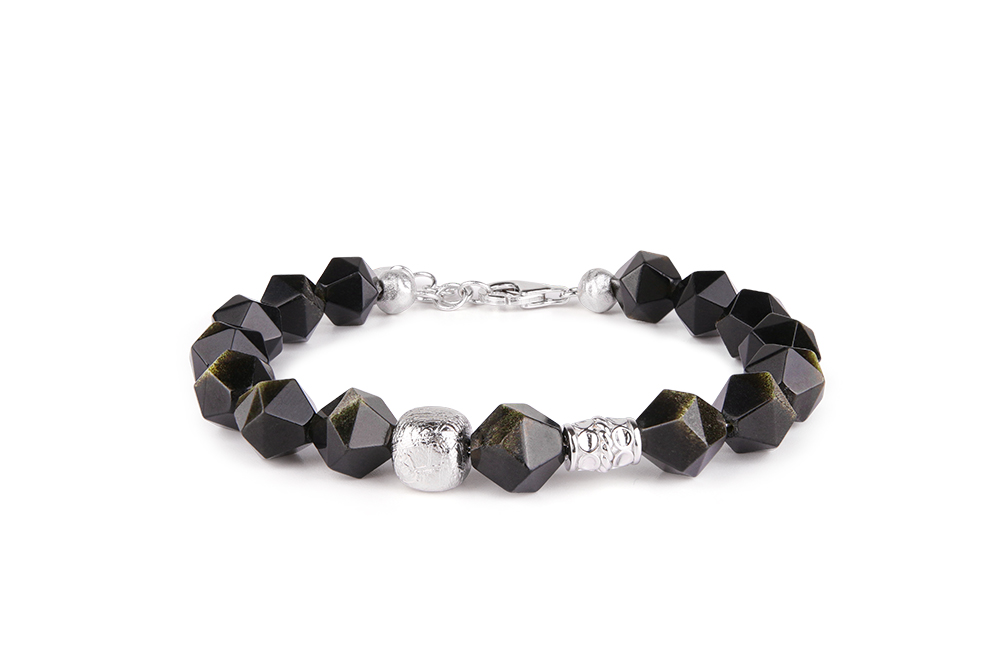 Decorated with meteorite, wearing this Brazilian golden obsidian bracelet  will elevate your masculine, personality and attraction to the next level.